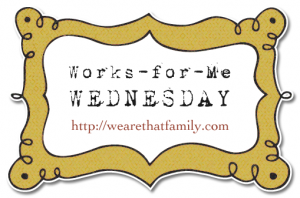 The theme over at We Are that Family for this weeks' Works for Me Wednesday is Back to School tips. I'm late posting and actually it's been a while since I've even posted here to my blog let alone a WFMW post! So, I was struggling with what to post that wasn't already covered, routines, task lists, etc.

Then I remembered that even before I had kids, I'd hit the back to school sales! Why? Because thats when stores put things like underwear and socks on sale too. So I can get multipacks of socks for cheaper and as an added bonus, you can often get a pair or two "free" in that pack! Just watch though because the packs without the bonus free pair are occasionally intermixed with the bonus ones.

Oh and one more tip, if you shop at certain grocery stores and you clip box tops, check out http://www.rewardyourschool.com/. You can link your frequent shopper card with your school and get bonus box tops!