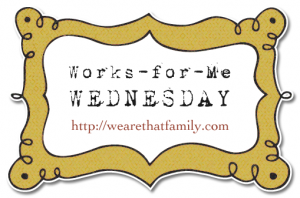 We've clearly hit Birthday Party season in our household. Between my two girls, we averaged about one a week so far in March. I don't like gift bags. They're not fun to open and it adds to the extra waste. I don't consider myself a very "green" person, but it really does bother me how much extra packaging toys are packed in these days. And they don't make it easy to recycle it all either. While I can't do a lot to control that, I can do a bit to eliminate some of the extra waste by not using gift wrap or a gift bag. What do I do? I make a pillow case, and wrap the gift in it.
And as an extra bonus, since I often buy the fabric on sale, it usually doesn't end up costing more than a gift bag would anyway. I usually choose fabric that has characters the kids will like on it, or one that goes with a holiday that's coming up (Valentine's day, St Patrick's day, etc).
I've also made draw string bags for some of the kids. For more great tips head over to
We Are that Family
!